Roadmapping is a method of analysis to visually represent an overview of development pathways of products, services and technologies over a set period of time. Coherent technology roadmapping allows to plan future use of technology systematically and to coordinate it with the product roadmap. The roadmap communicates transparency across departments within in a business and helps synchronize technological activity.
Individual technology roadmap design
The technology roadmap supports management in navigating the business towards a target in unchartered territory. Roadmapping lays the foundation for efficient discussion and implementation of the technology strategy. It synchronizes levels of planning for technology and products, integrates technology intelligence and creates transparency with regard to alternative plans.
We analyze technological alternatives ready for the future, determine the best point of entry for new technologies, and plan replacement of existing technologies.
Grounded in many years' consulting practice informed by the most recent findings in applied research, we develop with you a process to define a technology roadmap tailored to your business. We discuss with you how to best handle uncertainty and demonstrate how to find alternative solutions. To select the right technology development projects, suitable evaluation benchmarks have to be set. We can develop and adapt user-friendly tools and methods to support these efforts specifically for you. We support you in implementing technology roadmapping within your business and in visualizing results of technology planning in a roadmap.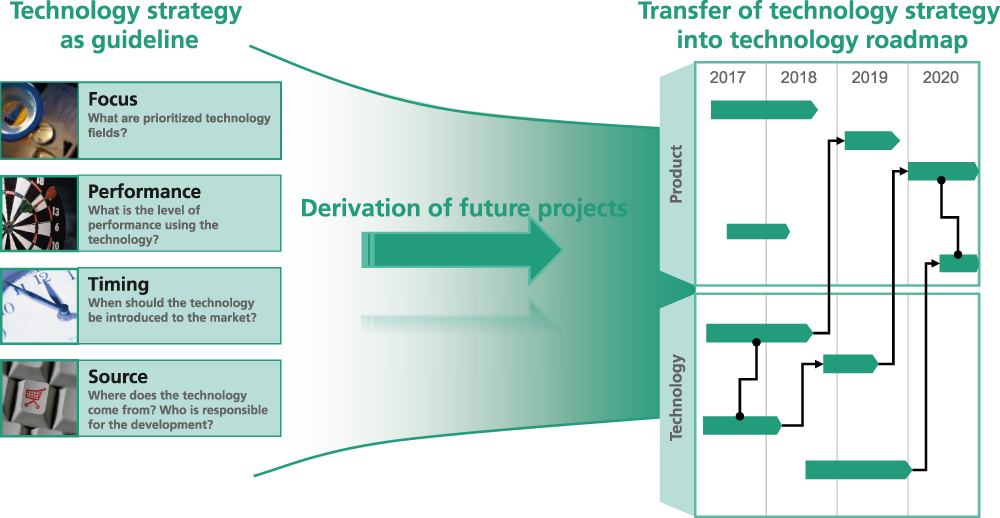 Our services
Analyzing alternatives to existing product and production technology, assessing these alternatives as well as identifying appropriate time to adopt new technologies

Supporting process design for roadmapping as well as in implementation of examples

Consulting on implementing a structured technology planning process and support in visualization of the results