Leveraging competitive advantage
Recognizing technological opportunities and risks early on can secure decisive competitive advantage for businesses. To this end, you have to identify relevant technologies and correctly assess their performance and potential. A systematic technology intelligence process allows businesses to manage the flood of information and to create a dependable foundation for technology decisions. The Fraunhofer IPT implements customized technology intelligence processes and the tools required for this purpose.
Scanning, scouting and monitoring
Technology scanning, scouting and monitoring constitute the basic activities of technology intelligence. These can be distinguished based on a range of different influencing factors such as familiarity of the business with specific technology fields, the level of detail of the search within these fields and the purpose of the information to be collected.
Technology scanning refers to constant, primarily undirected information search within or outside the focus area of a business. Technology monitoring takes this up and examines the events within individual technology fields more closely. Individualized and rapid acquisition of detailed Information relevant to the respective technology for clients is known as technology scouting. All three of these search perspectives have the common aim of avoiding future technological surprises through targeted information search and to provide technology management with a foundation for decision-making regarding potential technological options.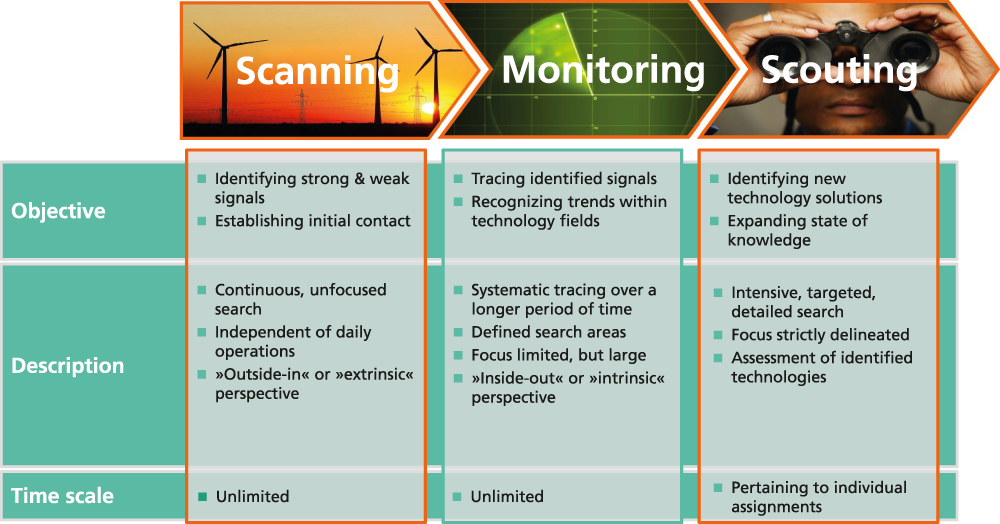 Basic activities of Technology intelligence

Technology intelligence should be understood as a cyclical process in which both new and existing information is collected and evaluated. To this end, the need for information must be determined accurately, information must be acquired and evaluated in a targeted manner and the results must be edited to be intelligible and targeted to the recipient.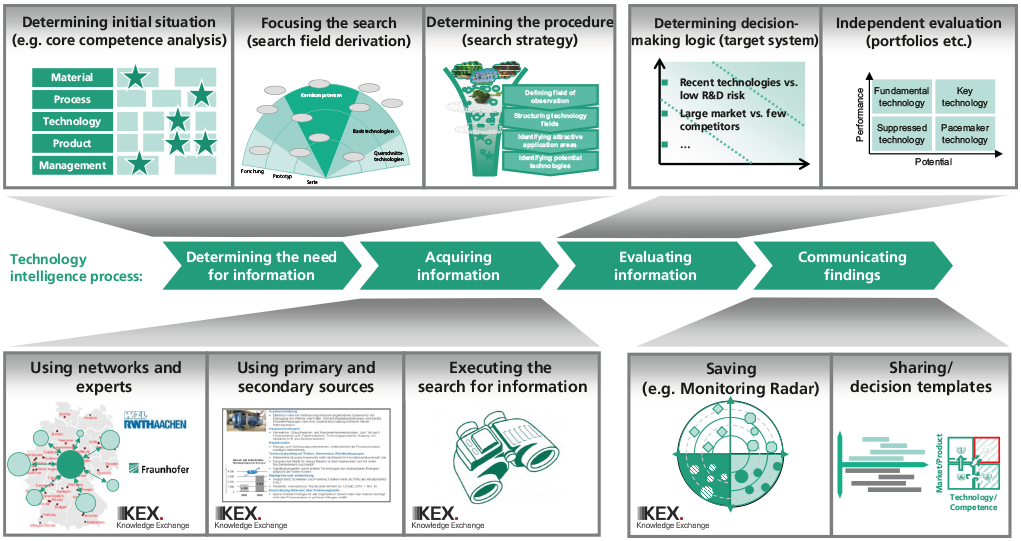 Technology intelligence process
Our services

Support in developing technology intelligence processes (including interfaces to other corporate functions, e.g. development)

Contentual layout and procedural structuring of technology scanning, monitoring and scouting

Elaboration of technology intelligence search strategies and specific search operations

Identification of relevant technology developments and trends for your business