How do we leverage the potential of data profitably for production?
Today, increasing amounts of data and a growing range of applications play a significant role in the future of production - to increase competitiveness and create a greener future.

On the one hand, the smart use of data offers enormous potential
There remains little doubt that historical data can improve forecasting accuracy, enable more accurate production schedules, and assist decision makers in managing a company's product portfolio. Furthermore, the exchange of data within and across companies can be used to improve processes, from material flow to process details. Either retrospectively via parts-tracing or in real time by adjusting parameters during ongoing production. In the context of a greener future, the use of data offers enormous potential for value creation. Existing business models can evolve to become more sustainable, or entirely new business models can be created. Predicting tool wear, for example, can improve maintenance planning and therefore increase product life. With longer product life, resources are saved, and customers benefit from longer running times. If this concept is extended to a new business model, machine manufacturers could offer data-based predictions of tool wear. This enables customers to optimize their process parameters and the timing of tool changes. For example, milling tools can be used longer on the shop floor by dynamically adjusting process parameters to account for predicted deterioration of cutting properties.
On the other hand, companies face a variety of challenges to unlock data-driven value
Companies often have vague goals regarding the use of data but lack the experience and methods to successfully implement and align them with corporate goals. In addition, the monetary valuation of data and related activities are a challenge for companies, often resulting in premature or short-sighted valuations in practice. Lastly, the collection and use of data requires many resources, from employee skills to machine sensors. These resources are rarely managed holistically long-term or aligned with business goals. In practice, this often leads to missed opportunities due to a lack of enablers and solid foundations. For instance, a promising AI use case might underperform or face significant delays due to the insufficient or untimely establishment of data sources, data quality mechanisms and employee skillset. Given its complex and time-sensitive nature, the development of a robust framework for data utilization – while remaining efficient and oriented towards business goals – requires long-term strategic planning and implementation.
So, how can companies proceed to improve their competitive position and contribute to a greener future?
Our five-step approach to develop a detailed data strategy
To tackle these challenges and maximize the utilization of data-driven value, Fraunhofer IPT proposes a 5-step-approach to planning data strategies as the basis for sustainable corporate development:
In the first step, it is necessary to analyze the status quo of the data assets, for example, by looking at the available resources and technologies. This gives us a systematic overview of the current data assets, which we then structure and link to create a comprehensive understanding.
Second, we analyze the factors surrounding the business. To this end, we identify trends and analyze the data-driven ecosystem. To look at this in more depth, you can find details in our whitepaper: Monetizing Data in Connected Adaptive Manufacturing - Succeeding in Data-Driven Ecosystems.
Third, we identify potential benefits within and around the company that can be tapped through the application of data. By linking the company's goals with the results of the outside-in and status quo analysis, we can identify relevant fields of action.
Based on the preceding analyses, the next step is to make a strategic decision about where the company wants to position itself. By linking the fields of action, potential benefits, trends, and data, we can now perform a GAP analysis to identify areas where action is needed and areas of focus.
The last step aims to aid resource allocation considering the overall company goals. Based on the desired strategic positioning and the identified gaps, measures and activities are derived. This also allows for a more structured alignment of company data initiatives.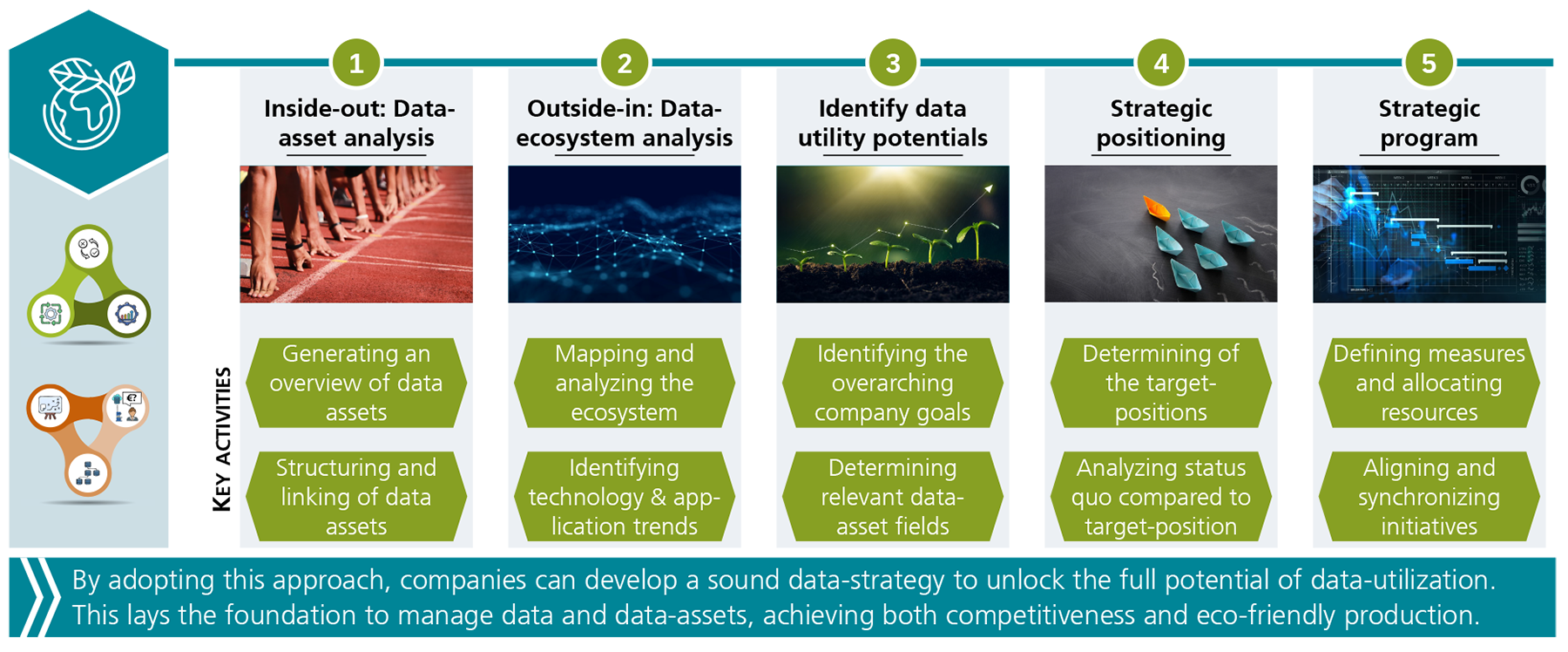 How do you use data to effectively support your business strategy? Let us discuss the potential and role of solid data strategies for your business!