Digitalization affects businesses of all industries and has a lasting effect on the structure of their respective sectors. Particularly for manufacturing businesses, this might result in new market participants gaining an ever-greater share of the overall revenue as well as the commodification of their physical products at decreasing margins. On the other hand, this provides manufacturing businesses in particular with opportunities to innovate.
Leveraging benefits of digitalization
This includes adapting and expanding your own core business through digitalization to be able to market it as a scalable product. In this process, (product) eco-systems can be established to leverage the innovative potential of clients and partners to enhance the unique features of your own products. These digitally refined products bear the promise of greater value to the client, far exceeding that of the existing product. At the same time, digitalized value creation chains in production and logistics can greatly reduce lead times and address market needs more flexibly and in a more individualized manner.
Digital transformation is your future
To exploit this potential for differentiation and to convert it into a lasting competitive edge, strategically consistent positioning within your business's eco-system by means of a digital strategy is required. Being keen to experiment and willing to take risks is crucial to its success, but so is being ready to invest to actively create your own future.
Our approach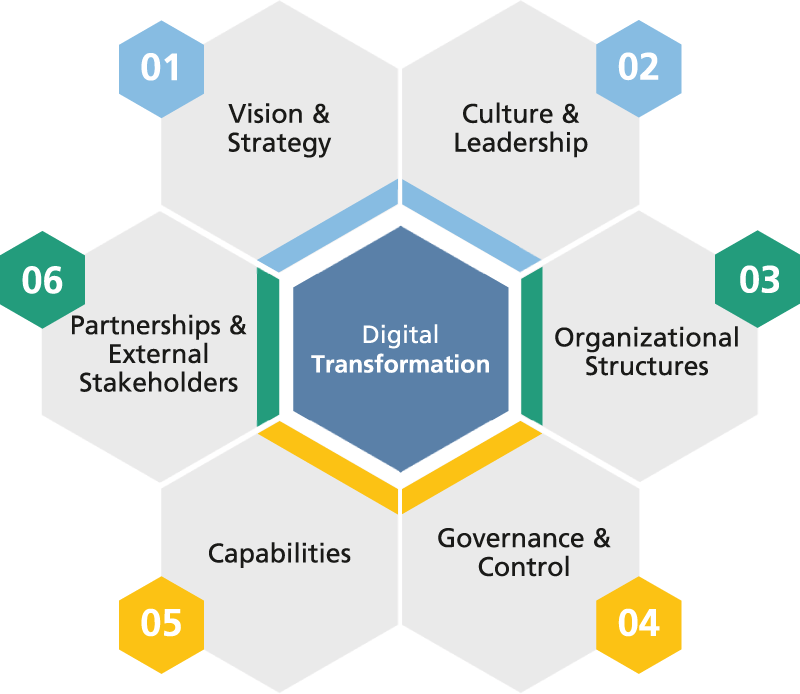 Our approach considers digital transformation of manufacturing businesses in six dimensions. These include initial pilot projects, agile leadership principles, alternative trajectories for development, adjusted KPIs and systems of indicators as well as targeted development of skills and establishing of strategic partnerships within (product) eco-systems.
The Fraunhofer IPT can support your business, too, in designing your digital future and to use digital transformation to your advantage – just as we have supported other manufacturers, be they medium-sized businesses or MNCs.
Our services
Identifying fields of action for your business's transformation

Identifying future client needs

Analyzing your needs for digital transformation

Supporting transformation processes

Developing digital transformation strategies

Re-assessing development pipelines in light of current trends and needs

Supporting and initiating of collaborative developments