Strategy as a prerequisite for successful digitalization
Being able to position yourself strategically within the relevant eco-system is increasingly crucial to the success of any business. This allows businesses to exploit untapped potential for revenue and differentiation and to hedge against potential new competitors from outside the industry. At the same time, businesses develop a lasting competitive edge through increased efficiency of digitalized value creation processes. The prerequisite for this is the development of digital-technological skills as well as applying them to existing business operations.
Supporting you reaching your target
Digital strategy is never self-contained. It rather is one component of any business's set of strategies, influencing the strategy of the overall business as well as individual divisions, and the business's technology as well as its innovation strategy. To be able to apply digital technologies systematically, businesses need a (digital) vision revolving around goals the business hopes to achieve as well as around its environment. To realize this vision, businesses have to start developing required technologies and skillsets and planning implementation of systems and tools in time.
Our approach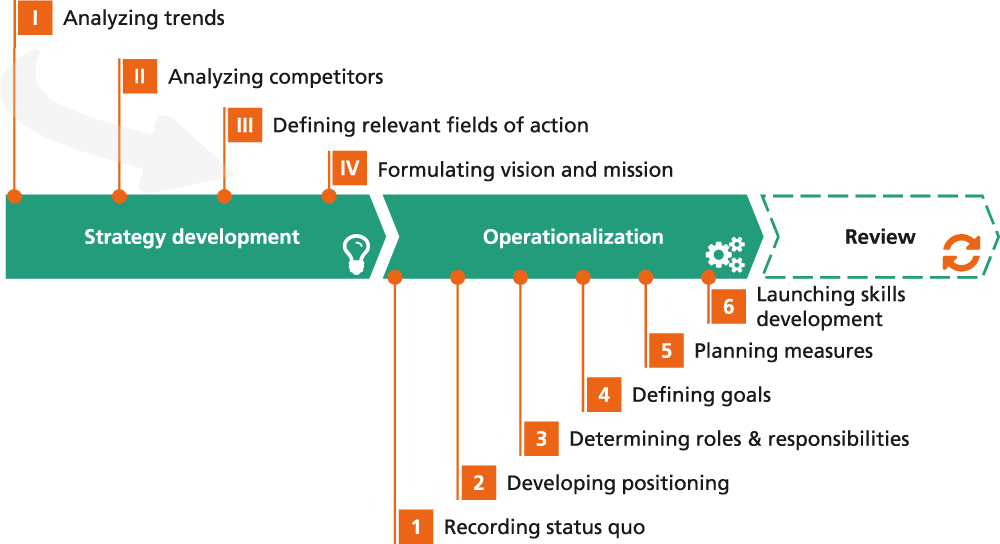 Our approach picks up at the stage of vision and strategy development ('top-down'). First, we systematically analyze market and technology trends. In the following, we structure and analyze the existing environment of both direct and new, potential competitors. Based on this, we prioritize fields of action peculiar to each business, within which the business will have to establish a strategic position. To complete the top-down stage, we will formulate the vision as well as the mission of the digital strategy.
At the next stage, operationalization ('bottom-up'), we first record the business's digital status quo and its level of maturity. Based on this, we develop a realistic positioning within the business's core fields of action and determine clear roles and responsibilities. To operationalize this strategic positioning in the fields of action, we define the targets of the digital strategy and derive corresponding measures. These will be planned in the following ('roadmapping'); we then launch the systematic development of digital-technological skills.
Our services
Analyzing trends and competition

Developing visions and digital strategies

Operationalizing and implementing digital strategies

Auditing strategies

Identifying core strengths

Implementing technical due diligence when acquiring digital-technological skills
Our references
Case study:
Conglomerate: >20,000 staff, >170 locations globally, >€3bn revenue p.a.

Strategy at Group level for 8 units of the group

Top-down strategy development

Digital vision and agenda

5 digital arenas (incl. customer journey, business model, etc.)

6 lighthouses specific to this business

3 of which in growth and new markets (e.g., smart home)

3 of which in efficiency and productivity (e.g., smart factory)

Bottom-up operationalization

Adjusted governance structure

7 workshops

>50 launched projects at different levels of maturity

2 group-wide conferences