QuickPro
Project duration:2011/9/1 to 2013/12/31
Limited energy and material resources as well as the global environmental problems associated with CO2 emissions mean that new products and production methods must not only fulfill economic requirements but must also contribute strongly to a reduction in energy and raw material consumption during their life cycles. By providing completely new component concepts, the aircraft and automotive sectors as well as the tool and die making industry are considered to be key activists in reacting to this new situation.
In most cases, these concepts are triggered by innovative materials and their superior properties at high levels of mechanical and thermal loading. These materials are, however, difficult to machine, leading to production times and costs far beyond the requirements of the national and international markets. In order to remain competitive, a radical and innovative strategy in terms of the milling conditions for advanced materials is needed to provide optimum and reliable process design within a short time. Realizing this will be a decisive step for European manufacturers in the aforementioned sectors, enabling them to improve their share of a highly profitable market.
The Fraunhofer IPT has amassed a great deal of experience in the field of process technology - a field in which the design of advanced milling processes for materials that are hard to machine is one of the major businesses. The institute initiated the EU "QuickPro" project, funded by the European Commission, as part of the 7th Framework Programme's "Research for the benefit of SMEs" programme (contract number 262272).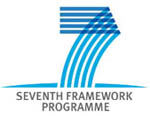 Together with the Aristoteles University Thessaloniki, Greece, the Fraunhofer IPT is providing its research services to the following companies:
APR slr, Italy

BÖHLER EDELSTAHL, Austria

W. Faßnacht WERKZEUG-FORMENBAU, Germany

GLOBEVNIK d.o.o., Slovenia

HEGGEMANN autosport, Germany

KLENK Hartmetall-Werkzeugfabrik, Germany

SECO Tools, Sweden
The technology
Although materials that are hard to machine are currently used in various applications, there is a great demand for further optimization of the related milling processes in order to enhance process performance and workpiece quality. In this context, one of the major drawbacks is the insufficient as well as time-consuming and expensive milling process design. The QuickPro project therefore focuses its investigations on the major technological areas that have an influence on process performance and reliability - the tool, coating and process technologies.
Tool technology: State-of-the-art milling tool performance depends on the micro-geometry of the cutting edge and on the adhesion of the coatings, which is mainly influenced by the constitution and quality of the tool surface. Until now, it was not clear which tool micro-geometries and surfaces are the best fit for which milling application.
Coating technology: A core conclusion when considering state-of-the-art coatings is that the high wear induced by high mechanical and thermal milling tool loads can counteract further improvements to the coating technology. Coatings must therefore be developed and qualified in relation to their subsequent industrial applications.
Process technology: Milling processes for materials that are hard to machine are characterized by an extremely narrow range of process parameters. This is the main reason for their high sensitivity to the applied process parameters, which can, in turn, lead to increased tool wear or even tool breakage. It is therefore very important that optimized parameter windows and milling strategies be developed.
An integrated investigation and synchronization of these technological areas related to the machining issue in hand is vital in order to further enhance the milling process for materials which are hard to machine. One must also ensure that this process is conducted in a comprehensive, fast and standardized way - an issue that is central to the QuickPro project.

Conferences and Publications
ICTM – 1st International Conference on Turbomachinery Manufacturing
(2011, Conference, Fair, accomplished)
AWK – Aachen Machine Tool Colloquium
(2011, Conference, Fair, accomplished)
12th International Tool Making Colloquium
(2012, Conference, Fair, accomplished)
HPC – 4th Conference on High Performance Cutting
(2012, Conference, Fair, accomplished)
ICTM – 2nd International Conference on Turbomachinery Manufacturing
(2013, Publication, Conference, Fair, accomplished)
THEA Coatings – 9th International Conference Coatings in Manufacturing Engineering
(2013, Publication, Conference, Fair, accomplished)
AeroMat – Conference and Exposition
(2013, Publication, Conference, Fair, accomplished)
EMO 2013
(2013, Fair, accomplished)
13th International Tool Making Colloquium
(2013, Conference, Fair, accomplished)

Aerospace Meeting
(2013, Fair, accomplished)
CIRP Conference
(2014, Conference, Fair, in preparation)
AWK – Aachen Machine Tool Colloquium
(2014, Conference, Fair, in preparation)
News Release
(2014, Publication, in preparation)
The Coatings Conference
(2014, Publication, Conference, Fair, in preparation)
Funding organization
European Commission
Research Executive Agency REA
B. Mester
COV2 17/159
1049 Brussels
Belgium
Project coordination
Fraunhofer Institute for Production Technology IPT
Steinbachstraße 17
52074 Aachen
Germany

Partners
Aristoteles University Thessaloniki
Laboratory For Machine Tools & Manufacturing Engineering
54124 Thessaloniki
Greece
Böhler Edelstahl GmbH & Co KG
Mariazeller Straße 25
8605 Kapfenberg
Austria
Seco Tools AB
Björnbacksvägen 2
73782 Fagersta
Sweden
Globevnik d.o.o.
Savska Loka 21
4000 Kranj
Slovenia
Klenk GmbH & Co KG
Mühlstraße 17
88481 Balzheim
Germany

APR srl
Via R. Incerti 10
10064 Pinerolo (Torino)
Italy
W. Faßnacht Werkzeug-Formenbau
Boschstraße 12 a
86399 Bobingen
Germany
CP autosport GmbH
Zeppelinring 1-6
33142 Büren
Germany

Publications