FibreChain
Project Duration: 2011/6 – 2014/05
Lightweight components and their energy-efficient production will form one of the most important key factors for the European industry to fulfil the ever increasing global demands regarding mobility, energy efficiency, waste avoidance, preservation of resources and reduction of CO2 emissions. Nowadays, specialized manufacturing equipment for 3D-shaped, multi-layered products based on fibre-reinforced plastics (FRP) is available for niche applications, but an integrated process chain accomplished by turnkey manufacturing systems is not yet available. Therefore, the project "Integrated Process Chain for Automated and Flexible Production of Fibre-Reinforced Plastic Products (FibreChain)" aims at the development of worldwide first automated turn key manufacturing systems for fibre-reinforced thermoplastic composites (FRTC) addressing the following branches:
Public and private transportation (e.g. automotive, railway, aerospace)

Mechanical, chemical and civil engineering (e.g. turbines, pipes, frames, wind mill blades)

Consumer goods (e.g. leisure and sports equipment)
Our Solution
In order to achieve the overall objective of FibreChain, namely more than doubled productivity by more cost-effective, more energy-efficient and more flexible manufacturing of 3D-shaped, multi-layered products based on FRTCs, FibreChain addresses the following targets:
Clustomised and yet highly automated production of small and medium lot sizes

Integrated measurement systems along the entire process chain for quality assurance

Multi-functional equipment with drastically reduced handling and transportation efforts

Near-Net-Shape production with low scrap rates

Integration of knowledge and simulation models for all processes.

Implementierung einer energieeffizienten Produktion (out-of-autoclave)
The logical consequence of these targets is the development of an integrated process chain. Therefor, a multidisciplinary consortium of 18 highly expertised stakeholders from 7 European countries with outstanding competencies in the relevant technological fields (material, machine tools, manufacturing, laser technology, metrology, simulation and control systems) will collaborate within the project FibreChain. Important tasks are:
Development and qualification of new and process-adapted prepreg materials

Using UD-prepregs to overcome drawbacks of fabrics and impregnation processes

Assurance of quality by metrology-assisted automated production

Implementation of an energy-efficient out-of-autoclave production

Development of new laser systems and processes to enable integration of tape laying, cutting and joining

Elaboration of an comprehensive material and process data base as well as establishing a simulation environment along the entire process chain

In-situ integration of holes and inserts during thermoforming with minimised fibre damage
Project coordination
Fraunhofer Institute for Production Technology IPT
Project partners
AFPT B.V.
Bf1 systems
Crompton Technology Group Limited
Czech Technical University of Prague, Research Center of Manufacturing Technology RCMT
Fraunhofer-Institut für Lasertechnik ILT
Missler Software SAS
MX. Composys
Nikon Metrology NV
Precitec KG
Soficar
Strojirna TYC
Suprem SA
TenCate
TPR Fiberdur
Trumpf Laser- und Systemtechnik GmbH
TWI ltd.
University of Twente, Department of Engineering Technology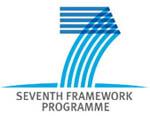 FibreChain has received funding from the European Community's Seventh Framework Programme FP7-NMP-2010-Large-4 under grant agreement n° 263385.