EasyForm – Forming titanium and nickel alloy sheet metals efficiently and flexibly
The demand for parts made from high-performance materials such as titanium or nickel alloys is increasing – particularly in the automotive and aerospace industries. However conventional forming operations conducted on these materials are generally very laborious and time-consuming. This is where the limitations of metal spinning also become apparent. However, the formability of materials can be enhanced when a laser is used to apply localized heat, permitting even materials which are difficult to form to be processed considerably more efficiently since there is no longer any need for additional time-consuming and cost-intensive external heat treatment.

"EasyForm", the EU-funded project (Funding Code: 315111) was initiated with the aim of transferring the advantages of laser-assisted metal spinning to industrial applications. Within this project, the Fraunhofer IPT will develop the forming process and the associated system technology in collaboration with the Austrian Materials Center Leoben GmbH research facility and four companies from various European countries.

The project can be divided into four sub-tasks which, when complete, will combine to achieve the superordinate project goal:

Development, set-up and commissioning of a suitable machining system

Development of machining strategies for laser-assisted metal spinning operations conducted on materials which are difficult to form

Development of a test methodology for quality assurance

Economic and technological evaluation of laser-assisted metal spinning in comparison with conventional forming processes.



The partners in this cooperative venture intend to create the conditions which will foster the industrial application of laser-assisted metal spinning. Small and medium-sized companies operating in the metal-forming sector will thus be in a position to increase their competitive strength considerably by reducing their throughput times in production and by permitting higher levels of part quality to be achieved.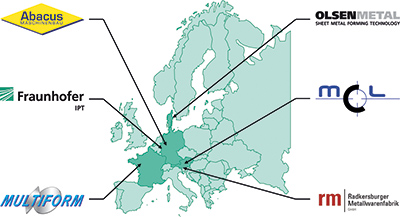 Project partners