Resource-Efficient Factory Of Recyclable Manufacturing Composite Components
To prevent environmental pollution, waste production, resource and energy dissipation throughout a production process the REFORM project focuses on the manufacturing of FRP (fibre reinforced plastics) structural components and on the development of technologies and methodologies that:
directly reduce manufacturing scraps, energy waste and pollution,

allow new component designs based on materials which reduce the environmental impact of the components during their use phase of their life,

provide ways to improve the level of recycling and reuse of materials at the end of life of components,

provide methodologies to enable the machine and equipment reuse at the moment of their decommissioning.
To achieve these objectives REFORM tries to substitute and improve traditional processes by new and more capable and flexible equipment which requires less energy and fluid consumption and new products that can perform in an equal or better manner their functions and are also conceived for a lower environmental impact during the overall product lifecycle.
The eco-factory concept of having cleaner and more resource-efficient production in manufacturing focuses on the manufacturing processes, but it also involves the fundamental aspects in the making of products or components namely the material choice and the choice of the shape, in terms of material mass and volume.
The development of new environmentally sustainable FRP manufacturing methods and technologies considers all non chemical FRP manufacturing phases, from forming to machining and assembly up to disposal and recycling.
Addressed industry sectors are:
Aerospace

Automotive

Civil infrastructure

Renewable Energy

Boot building
Project Coordinator

Prof. Keith Ridgway
University of Sheffield - AMRC
Project partners
The University of Sheffield - AMRC

TEKS

MACH4

DVST

TECNALIA

NOVA

ModuleWorks

Formtech

SWEREA SICOMP

DIAD

AZIMUT

ACCIONA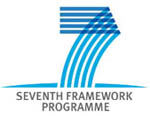 REFORM has received funding from the European Community's Seventh Framework Programme FP7-NMP-2010-Large-4 under grant agreement n° 283336